On 8th November 2023 the North South Ministerial Council Joint Secretariat welcomed a group of delegates from the Cyprus Dialogue Forum (CDF).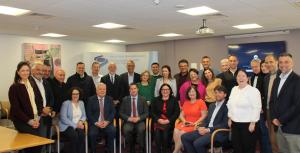 The delegation included representatives from 8 political parties (4 Turkish Cypriot and 4 Greek Cypriot political parties), former chief negotiators as well as co-ordinators and an advisor for the CDF Secretariat. The visit to Armagh formed part of a 5 day visit to Dublin and Belfast co-ordinated by NI-CO to consider the 'Impact of the NI Peace Programme'.
The delegation heard about the origin, roles and functions of the NSMC from the Joint Secretaries. This was followed by presentations and Q&A sessions with Dr Stuart Mathieson, Research Manager, InterTradeIreland and Gina McIntyre, CEO of The Special EU Programme Body to hear how their organisations have contributed to peace building and continue to support north south co-operation. The delegation also enjoyed a walking tour of Armagh, hosted by Armagh Banbridge and Craigavon Borough Council before departing the city.