The Loughs Agency welcomed an international delegation of almost 100 marine scientists, academics and political representatives to Derry~Londonderry for the SeaMonitor-STRAITS Conference, which took place in the Guildhall on 23 to 24 February.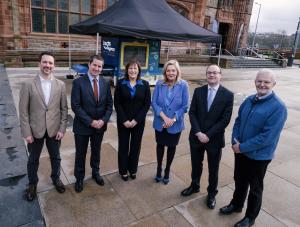 The two-day event provided an opportunity for the consortium working on the Loughs Agency-led SeaMonitor project to present their findings and highlight the benefits of tracking aquatic life in seas and rivers. It is hoped that the data collated will be utilised to help inform policy and management decisions, with the protection of vulnerable marine species a priority throughout the process. The species targeted included salmon, seals, basking sharks, cetaceans and skate.
The SeaMonitor project has received €4.7m of funding from the European Union's INTERREG VA Programme, managed by the Special EU Programmes Body (SEUPB). Match-funding for this project has been provided by the Department for Agriculture, Environment and Rural Affairs in Northern Ireland and the Department of Housing, Planning and Local Government in Ireland.
The results of the project make for impressive reading. The project deployed Europe's largest fish counter, reaching 60km and 100 receivers in length, between Malin Head and Islay. The consortium working on SeaMonitor consisted of the Loughs Agency, Atlantic Technological University, University College Cork, the University of California (Davis), the Agri-Food and Biosciences Institute, Queen's University Belfast, Ocean Tracking Network (Dalhousie University), Marine Institute, and the University of Glasgow.
The conference also focused on STRAITS, a new project that has received EU funding of €3.5 million as part of the Horizon 2030 initiative. This four-year project will run until the end of 2026 and will essentially act as the successor to SeaMonitor, ensuring that the landmark counter in the North Channel is redeployed and integrated with the other major counters around Europe.
Speakers at the conference included Cllr Sandra Duffy, Mayor of Derry City and Strabane District Council; Gina McIntyre, CEO of SEUPB; and Mark Hanniffy and Richard Hill, Joint Secretaries of the North South Ministerial Council. All speakers expressed their admiration for the collaborative approach taken throughout the duration of the project.
Pictured above (Left to Right): – Ross McGill, Principal Project Officer of SeaMonitor Project, Loughs Agency; Richard Hill, Acting Joint Secretary (North), North South Ministerial Council (NSMC); Sharon McMahon, Designated Officer, Loughs Agency; Gina McIntyre, CEO, Special EU Programmes Body (SEUPB); Mark Hanniffy, Joint Secretary (South), NSMC; Dr Fred Whoriskey, Executive Director, Ocean Tracking Network, Dalhousie University, Canada.